Gamerbots: Third-Robot Shooting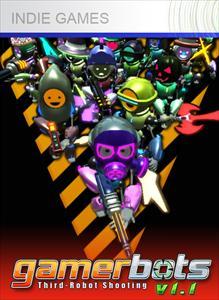 Gamerbots: Third-Robot Shooting pits the player in the role of a robot sent into a maze in order to locate the boss by progressing through a maze and eliminating his soldiers.
Whilst travelling through the maze, you will have to clear out various rooms full of the bosses soldiers. Once you clear out each room of enemies, you will be able to open up the crates in the room for some rewards.
During the game, the player will also come across stashes of gold which can be used to customize the players robot with new heads, limbs, armour and colour, as well as being able to put the players Xbox 360 gamerpic on the armour. The robots guns and swords can also have upgrades put onto them, increasing their damage.
Other Platforms: Xbox 360 Exclusive
Developed by Hotwave Games and released in July 2009